A Wedding Miracle
Facing 3 surgeries, 8 months of chemo, and 6 weeks of radiation is an unlikely time to build a relationship with the love of your life. Yet, nothing is impossible with God.
Have you been at a wedding and found yourself crying at the beautiful and profound way that God brings a couple together? I was crying those sweet tears this weekend as I witnessed Reid and Amanda (Noelle Wilcox) Patterson join their lives in a covenant of marriage.
The high point for me in the service was when Amanda pulled out a letter she had written to her husband in April 2014. She didn't meet Reid until a month later. She wrote her letter in faith and expectancy that God would bring her the man that she needed rather than the man she thought she wanted.
 Amanda surrendered to God her heart's desire to be married. She put everything on the altar.
When Amanda wrote this letter in April, she didn't know that she would meet her husband in a Juice bar in May. Neither of them knew that she would embark in a struggle against cancer, facing 3 surgeries and 8 months of chemo therapy and 6 weeks of radiation.  In the battle of her life, a knight-in-shining armor arose – Reid Patterson. Reid  was at her side during all the gross and difficult moments of this struggle.
Through the entire process, Amanda was a beacon of light and an encouragement to the medical community as well as the christian community who enjoyed Amanda's talents as a vocalist and worship leader. As one of Amanda's mentors, I saw her go deeper in her faith. Suffering made her more beautiful inside and out.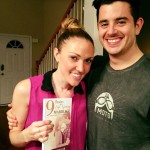 Last month I had dinner with Amanda and Reid in what is now their first home as a couple. They radiated with the presence and the power of God. God not only healed Amanda so she is cancer free, but he brought them together as a husband and wife. It was so much fun to give them my new book on marriage, and pray for God's continued blessing in their life.
A year ago Amanda was at the beginning of her fight against cancer, now she is on her honeymoon with the love of her life, cancer-free!
I Would love for you to get a copy of my book 9 Traits of a Life-Giving Marriage.
Buy a copy for yourself today, and an extra one to give as a Christmas Gift. This book will help you build a marriage that lasts. Invest in your marriage. No matter where your relationship is presently, this book will encourage and strengthen you to make it better, with God's help!