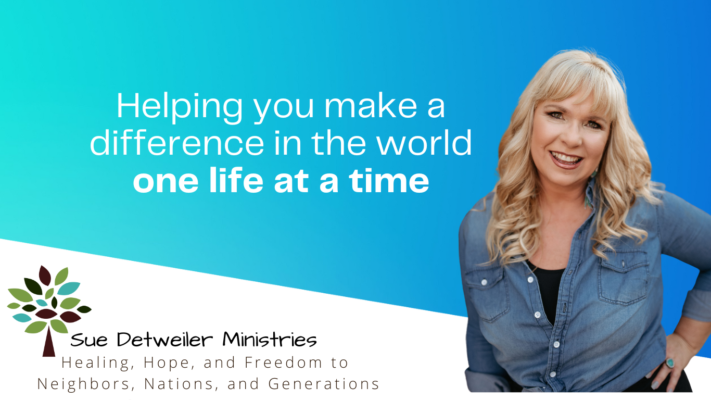 About Sue Detweiler

Sue Detweiler hosts Healing Rain, one of the fastest-growing broadcasts on Charisma Podcast Network, listened to in 135 nations. Sue holds a master of divinity degree from Vanderbilt University and is a doctoral student at Global Awakening Theological Seminary. She is part of Randy Clark's Global Awakening Network, and also part of the Supernatural Global Network led by Apostle Guillermo Maldanado. She received the highest recognition from the former president of the Foursquare Church, Jack Hayford, for leading Life School of Ministry, a three-year Bible training institute in Nashville that grew to five hundred students.
Sue is a pioneer woman pastor who began preaching at the age of 19. With her husband, Wayne, she planted and co-pastored their first church at the age of 22. With a strong prophetic teaching gift, Sue has equipped men and women to become pastors, evangelists, and missionaries to the nations. She is an international speaker and travels to Central America, South America, Europe, Africa, and the Middle East.
Sue Detweiler is a wife, mother of six, author, and pastor with more than twenty-five years of experience in marriage, ministry, and education. She is also a popular speaker who shares her heart and wisdom internationally on issues related to marriage, family, women, prayer, leadership, and ministry.
Sue's next book Healing Rain: Immersing Yourself in Christ's Love to Find Wholeness of Mind, Body, and Heart will be available July 2023 from Chosen Books. 
Sue's most recent book Women Who Move Mountains: Praying with Confidence, Boldness and Grace (Baker Publishing Group, May 2017) will inspire you to develop an intimate friendship with God through prayer and bible study. Filled with testimonies of women who have overcome toxic situations to become powerful women of prayer.
Sue's first book, 9 Traits of a Life-Giving Mom, hit No. 1 on Amazon's hot new releases for Christian women's issues. Sue offers help for women who want to be the best mom in the world for their kids, but often feel like the worst. In her honest, transparent way, Sue helps women find peace with imperfections and learn from their mistakes
Sue's second book, 9 Traits of a Life-Giving Marriage, grew out of her and her husband's heart to help couples grow closer to God and to each other. In their pastoral ministry to marriages, they have seen how sharing their own struggles can help create a safe context for couples to be transparent and honest with their own issues. Wayne and Sue have also seen God's transformative power heal and restore marriages through the marriage conferences and workshops they have led.
Connect with Sue
Email: [email protected]
Life Bridge Global
Sue serves as Executive Director of Life Bridge Global, a christian nonprofit ministry that equips individuals, local churches, and international communities through events, training, and creating online media resources, broadcasts, and courses. Our mission is to bring healing, hope, and freedom to neighbors, nations, and generations. You can make a tax-deductible donation here: https://lifebridgetoday.churchcenter.com/giving/to/general
By mail:
Life Bridge Global , 539 W. Commerce St. #2878, Dallas TX 75208.