Friendship is the Wind in Our Sails
Marriage thrives on friendship. The joy of sailing through life together. Yet most couples are not prepared for the reality that although 80% of the time you will have "smooth-sailing" — 20% of the time you will experience "rough seas."  Watch this short video.
Friendship brings life to our marriages. When friendship falters, the relationship is at risk. Maybe you are at a great place in your marriage and are experiencing the positive emotional connectedness of being one with your spouse. If so, great! Keep investing in your friendship.
Alternatively, you may be secretly crying into your pillow, feeling as if your needs are unmet. You could be withdrawing to your workplace and flirting with the secretary who admires your leader- ship. You could be wondering if it's possible to regain the passion you once felt in your marriage.
Friendship is the wind in the sail of your marriage. Whatever the current state of your relationship, invest the time in strengthening your friendship.  Make your marriage a rich, life-giving adventure.
Reinforcing the foundation of friendship can help you grow together, rather than apart, and keep your marriage stable and fun.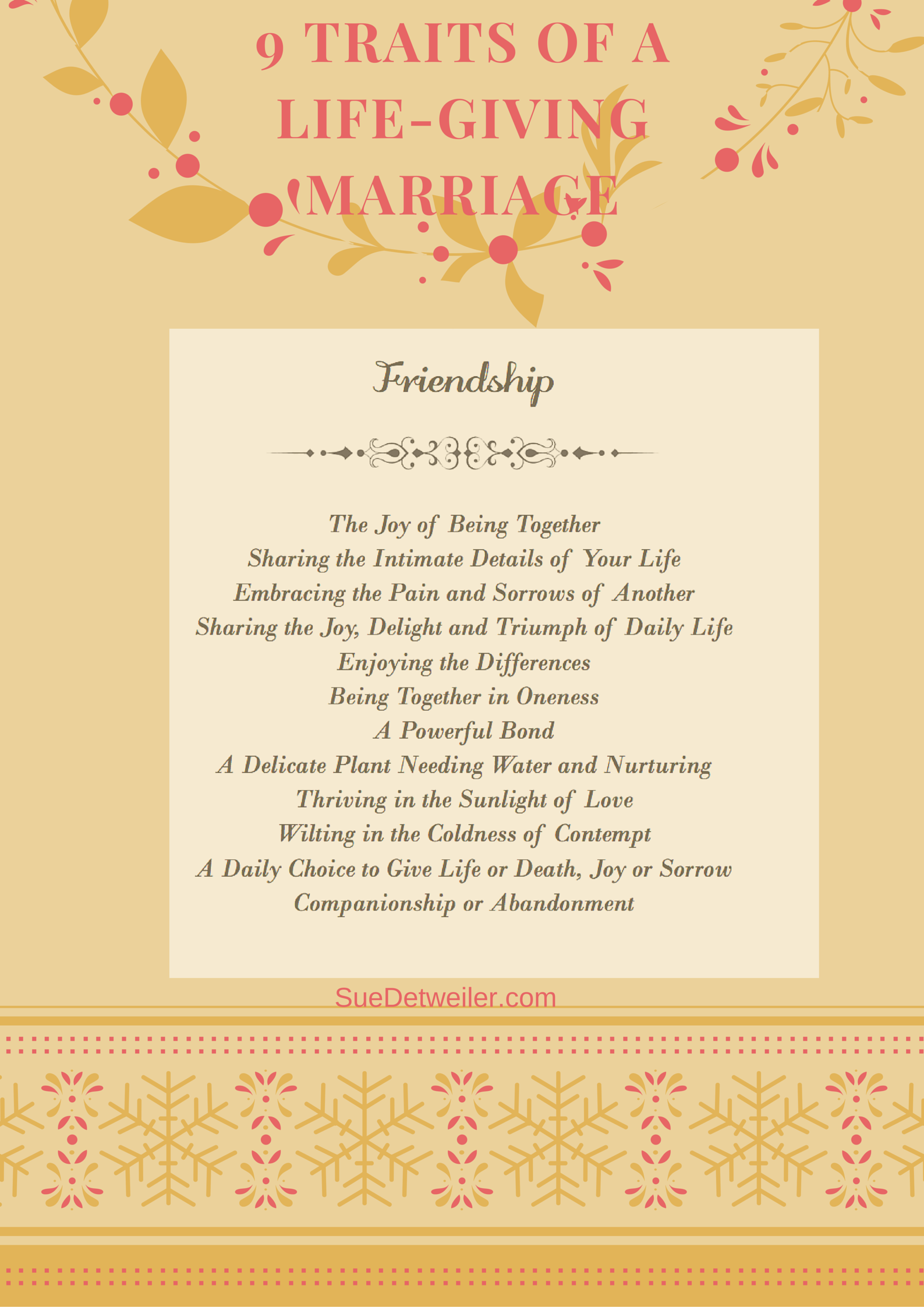 I remember a time when I wanted to change my husband (see chapter 2 of 9 Traits of a Life-Giving Marriage).Can you relate to that? Have you tried to change your spouse?
Last week, we learned about Acceptance. This week, remember, your spouse was created in the image of God. God fashioned and design your spouse with His purpose in mind. Since you do not have the power to change your spouse, you will need to learn to trust God and realize that it is not your role to act like the Holy Spirit in his/her life.
Now that we've relieved the pressure of needing to "fix" your spouse, let's focus on the fun we can have in our marriages.
"Make time for friendship. Go out and have fun. Leave the kids with a sitter. Focus on your marriage. Focus on building your friendship, rather than proving your point."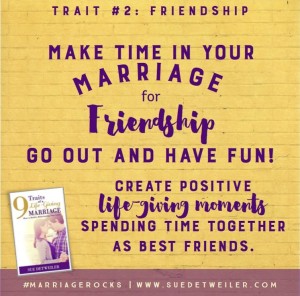 Week 2 – 9 Traits Marriage Study (Friendship)
Let's discuss Chapter 2 of #MarriageRocks:
Read Chapter 2 of 9 Traits of a Life-Giving Marriage. Reflect and journal the following questions. If you signed up, you will receive a free download today in email that you can use.
What were some of your favorite things to do when you were first forming a relationship with your spouse?
Is there one "Horsemen" negative style of behavior that might be holding you back from building Friendship in your marriage (Criticism; Contempt; Defensiveness; or Stonewalling)?
What are some ways you can commit to this week to restore Friendship in your marriage?
We'll see you back here on Wednesday to discuss Chapter 3. Have a great day!
Invite Your Friends:
There's still time to also invite your friends to join the book study. Sign up for the #MarriageRocks Study here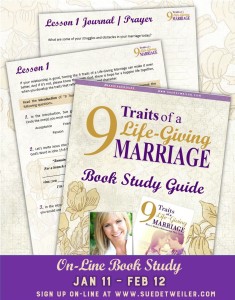 Just in Time for Valentine's Day!
Strengthen your marriage by setting aside time to be together. This intimate conference will help you build on a deeper foundation of friendship. You will be encouraged as well as empowered through time together as a couple. Sign up today!