Do you want to be completely free of past hurts?
I have found that my healing is like peeling an onion. With every layer there are fresh tears. I never get to the point where i have arrived because I am on a journey with God and so are you.
You can replace your brokenness with God's wholeness, but it will be layer by layer as you come to Him as you are. In your weakness, He will be your strength. Whatever you have done, or whatever has been done to you, you can bring it to Jesus. He knows. He cares. He heals. He delivers.
Whatever layer you are facing in your healing process, know that the Lord is with you. He is using the pain and the suffering to make you more like him.
"'Nevertheless, I will bring health and healing to it;

I will heal my people and will let them enjoy abundant peace and security."

Jeremiah 33:6

Go through this 21 Days to Spiritual Breakthrough.  Download your FREE copy today!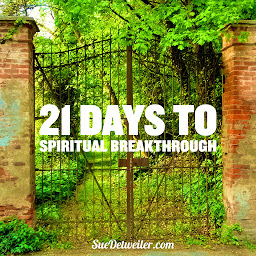 Be Encouraged Every Day!
To find out more about Sue Detweiler, her books and radio ministry click here