Transform Your Marriage Into Something Better Than Imagined
Consider the strength of your marriage. Do you face conflict in a safe environment where you can be vulnerable and honest with the one you love? If you don't, you can! What if every obstacle you faced became an opportunity for greater intimacy? 9 Nine Traits of A Life-Giving Marriage by Sue Detweiler will help you renew and transform your marriage into something better than you ever imagined. 
Download a preview of the book: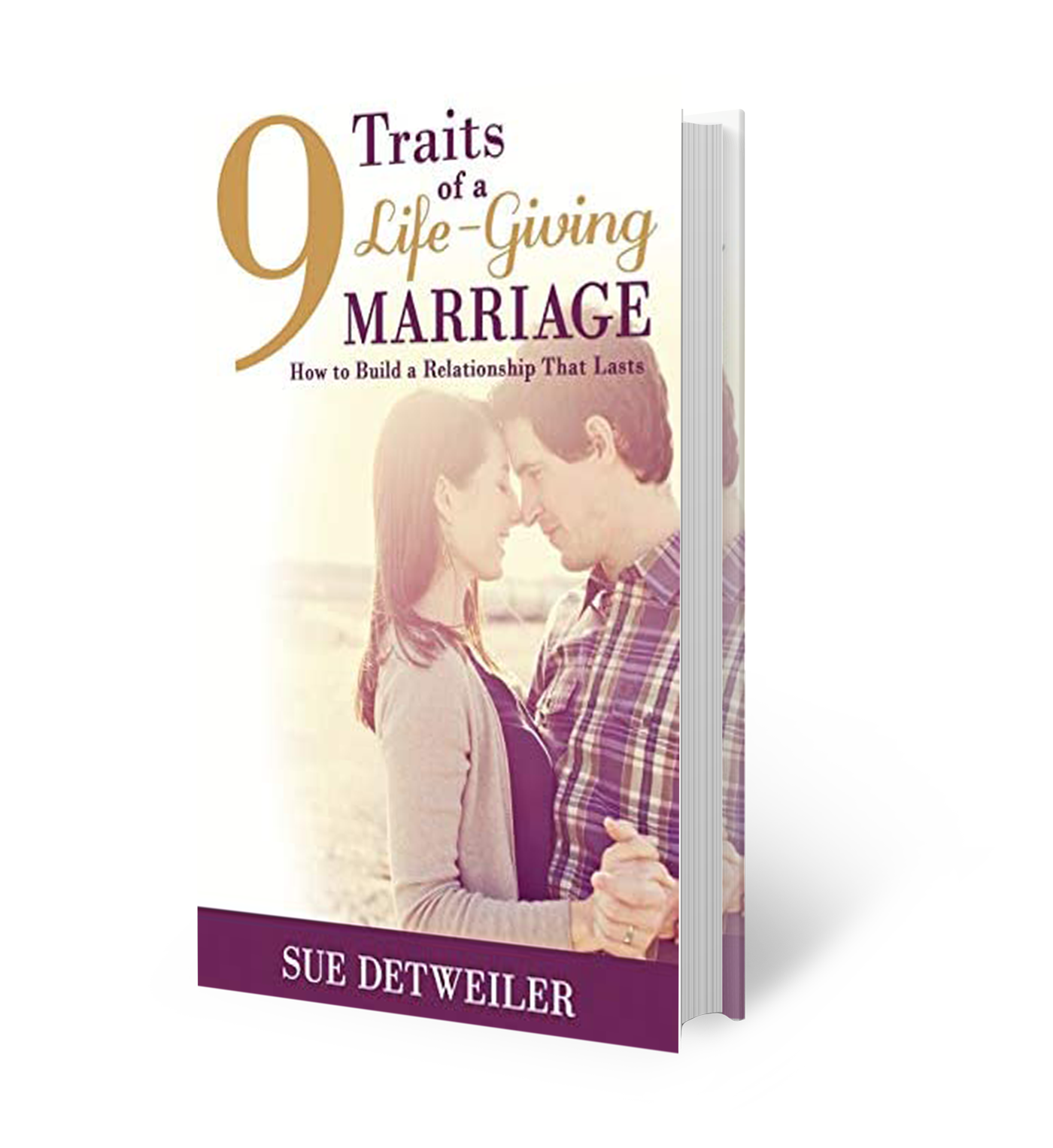 Is it possible to enjoy a strong and healthy marriage–'till death do you part? Yes… with God!
 Sharing with honesty and transparency, Sue Detweiler identifies the essential elements of a life-giving marriage.
Heal the broken places in your marriage

Strengthen your relationship with your spouse

Understand God's plan for your marriage

Revive your relationship with God's transformative power.
Sue helps couples set ground rules to help couples watch their words, listen attentively, speak honestly, and keep a positive perspective. Readers will gain tools to create Healthy, Life-Giving Communication that helps marriages grow strong. True honesty is tempered with the integrity of wisdom!
Sue also talks about the need for couples to build emotional, spiritual, and physical intimacy with each other.  She compassionately talks about struggles surrounding having a great sex life in Christian marriages and overcomes counterfeit intimacy and unhealthy behavior patterns.
Endurance is key to having a marriage that lasts, which is why Sue encourages couples to take a stress test for their marriage. Every couple has the temptation to blame each other during times of stress, but Sue encourages embracing faith to fuel the endurance needed for every lasting marriage.
God has the ability to bring Restoration in marriages through the power of His redemptive love. Couples can keep their marriage from ending in the statistic of divorce.
Revitalize expectancy in marriage. Forgiveness, restoration, and hope pave the way for fresh expectancy in marriage.
When you buy the book, you are donating to LifeBridge.
Are you and your spouse struggling to:
Face challenges as a team

Overcome trust issues, loss, or betrayal

Find hope for the future as a couple

Maintain physical and emotional intimacy

Communicate respectfully where both parties feel seen and heard
What readers are saying:
Once I started reading it, it was hard to put down this eBook. I read it in a matter of 4 reads. I sensed truth, authenticity, and good counsel in what I read. And I appreciated its Christ-centered approach/premise. Outstanding.
`9 Traits of a Life-Giving Marriage` is a Christian living book by author Sue Detweiler. Whether your marriage is soaring on cloud nine or needs some work this is a book on building lasting relationships.

We all enter marriage with how we perceive it to be. The husband has his thoughts about it, as does the wife. The author lists several traits of a life-giving marriage. Sue is a preacher's wife and her husband gives his thoughts in the book as well. Some of the life-giving traits are acceptance, friendship, and honesty. There are others listed in this book and others that could be listed.

I appreciate that the author focuses on God and how he designed our spouses to be. He never meant for us to condemn our spouse and the author does note that acceptance does not mean allowing abuse of any kind. It is interesting that couples with what is tagged `The Four Horsemen` (Dr. John Gottman) are most likely to divorce. These Four Horsemen are criticism, contempt, defensiveness, and stonewalling. Three ways to improve your marriage are respect and value, repair broken places, and allow God to transform your marriage. Remember our spouse is not the enemy.

I recommend this to all couples whether their marriage needs help or theirs is in a season of bliss.

Disclaimer: "I was provided a free copy of this ebook. All opinions are my own."
I recently finished reading "9 Traits of a Life-Giving Marriage: How to Build a Relationship that Lasts" and I thought it was a wonderful book. In these times it seems that more and more people are giving up on marriage and missing out on all the good things that come from the work put into it. Marriage is definitely work and not easy but if you get to that sweet spot where you really do live with your best friend it can be wonderful.

The book takes you through 9 traits that you need to come to terms with in order to have a successful marriage. Acceptance, Friendship, Safety, Honesty, Intimacy, Passion, Endurance, Restoration and Expectancy. Each chapter covers a trait by sharing personal stories, practical applications and scripture to help bring insight as to how we get in and out of unhealthy behaviors. It helps you to understand how we can be selfish and what we need to be aware of going forward to change our own hearts which can then change our marriages.

I especially liked the parts where Sue explained that our marriages are not like those portrayed in Hollywood movies and TV shows and that is not normal. I think we need to be reminded of that because we are all human and imperfect but those views tend to make us set the bar too high for each other.

I would recommend this book for any married couple and even those contemplating it. If I had known some of this before I got married maybe it wouldn't have taken 30 years to get to the good stuff!
Without many mentors or good examples of what marriage can be like if you work at it, it can be hard to discern where to turn when the honeymoon phase ends. This book is a great help for anyone that wants to improve, strengthen, and even repair their marriage.

I signed up to review this book because I really wanted some more insight into my own marriage and ways to make it better. This book is written from a woman's perspective with an intro by her husband., Sue is not biased and is very transparent in her own challenges as a wife. Ironically my husband received this book in the mail today from his business coach.

Sue shares with us 9 traits that you need to come to terms with in order to have a successful marriage. Acceptance, Friendship, Safety, Honesty, Intimacy, Passion, Endurance, Restoration and Expectancy.

Each chapter covers a trait by sharing personal stories, practical applications, and scripture to help bring insight to help understand how we get into and out of unhealthy behaviors. This book challenges you to look inward before moving forward.

Sue also reminds us not to compare our marriages with others. (A trap we all too often fall into in an age of social media where things aren't always what they seem)

This is a great read for anyone looking to stay married!
Past challenges don't have to define your future. Through Christ your marriage can:
Overcome the odds of divorce

Maintain emotional, physical, and spiritual intimacy that lasts a lifetime

Restore faith, trust, forgiveness, and respect

Face any challenge life brings with confidence and peace
Why I wrote this book:
I am a wife, mother of six, author, and pastor with more than twenty-five years of experience in marriage, ministry, and education. I am also a popular speaker and share my heart and wisdom internationally on issues related to marriage, family, women, prayer, leadership, and ministry.
In this book, I share honestly and transparently about the 9 Traits of a Life-Giving Marriage. With over 25 years of marriage and raising 6 children, I know how difficult developing a lasting relationship can be. I had a breakthrough in my marriage when I was face down before God and desperate for His help. I saw the brick wall of Criticism come down in my marriage, and now have a ministry helping couples find safety and intimacy with each other.
You, too, can experience forgiveness, restoration, and hope for a fresh expectancy in marriage.
When you buy the book, you are donating to LifeBridge.
"God's plan and purpose for your marriage is that you overcome all adversity through His strength."
GET + GIVE
When you buy the book, you are donating to LifeBridge.