Have you ever been stuck in the middle of a storm?
Jesus was completely at peace and relaxed in the same storm where the disciples were horrified.
Our perspective needs to shift off of the waves of our lives and onto the words of Jesus.
When you are in the middle of a painful situation, you must believe that life will get better.
We get stuck when we don't know what's coming next.
The next time you are in the middle of painful situation focus your thoughts on what God has said rather than on how you feel.
"That day when evening came, he said to his disciples, "Let us go over to the other side." Leaving the crowd behind, they took him along, just as he was, in the boat. There were also other boats with him.  A furious squall came up, and the waves broke over the boat, so that it was nearly swamped.  Jesus was in the stern, sleeping on a cushion. The disciples woke him and said to him, "Teacher, don't you care if we drown?"

He got up, rebuked the wind and said to the waves, "Quiet! Be still!"Then the wind died down and it was completely calm.

He said to his disciples, "Why are you so afraid? Do you still have no faith?"

They were terrified and asked each other, "Who is this? Even the wind and the waves obey him!"

Mark 4:35-41
Connect with your Heavenly Father. Get our list of Healthy Habits.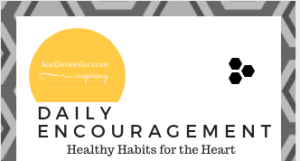 Click on the image to Get the List of Healthy Habits
Be Encouraged Every Day!
To find out more about Sue Detweiler, her books and radio ministry click here