Bridge of Healing
To know God intimately we need to be able to spend time with him every day. Jesus is the bridge of healing. He makes a way for you and I to come to our Father in Heaven. He bridges the gap and heals our wounds.
You might get in your mind that we kneel before God and there's some light that comes from heaven and the heavenly choir begins to sing and there is a little halo over our heads.  That's not how my prayer time is. When you and I consistently walk and talk with God, our lives will be changed.
Know God Intimately
When you see God for who He is, you will walk with greater clarity about who you are.  He is available to you.  You can come to him just as you are. Speak to him in every day ordinary conversation.  If you don't know what to pray the Spirit will help you.
"In the same way, the Spirit helps us in our weakness.

We do not know what we ought to pray for,

but the Spirit himself intercedes for us through wordless groans."

Romans 8:26
God is taking you deeper. He is going to make you more like Himself every day.
Get to Know God More as You Pray for Your Family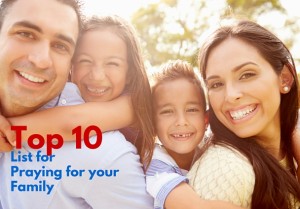 Grab our Top 10 List for Praying for Your Family.
Be Encouraged Every Day!
To find out more about Sue Detweiler, her books and radio ministry click here