Is Patience Your Friend?
Have you ever noticed, that impatience doesn't speed up the clock?
Patience provides an opportunity to slow down and enjoy your everyday life. Patience laughs at your imperfections and allows you to grow in the pace of grace.
Patience is enjoying your family and not letting the "work" of life get in your way of fun. Patience is valuing each child as precious in God's sight and priceless to you. Patience trusts God with the result of the time spent and the seeds sown.
Listen to todays Healing Rain Broadcast:
Children often struggle with patience because they want to do everything NOW! They don't like to wait to have fun.
Enjoy this Video from Sesame Street about Patience

Since we are God's children, we also need to learn to wait. In fact, patience is one of the fruit of the Spirit. Developing
. God's Word says,
"My brethren, count it all joy when you fall into various trials,  knowing that the testing of your faith produces patience. But let patience have its perfect work, that you may be perfect and complete, lacking nothing."
3 Ways to Make Patience Your Friend
So if you have had a "love-hate" relationship with patience, here are 3 ways to make patience your friend.
1. Cultivate Patience in the Check Out Line
Do you always pick the wrong check out line when you are in the store?  You know what a mean, the line that takes the longest. Rather than showing your irritation on your face and voice, what if you saw it as an opportunity to extend grace to the check out person who is learning a new system.
2. Let Patience Guide You in Traffic
Now that I drive in Dallas Texas, we are talking about some serious traffic anytime you drive down town. Learning to add more time to the travel schedule makes it easier for me to relax and enjoy the journey. Road-rage really isn't a Christian trait after all – patience is!
3. Embrace Patience in Your Calling
Your calling is unique and powerful. Yet, one thing I know is that it will take much more time than you think to accomplish all that God has put in your heart to do.  Try extending yourself some grace today and be patient with the process of God fulfilling your dreams.
It was over 20 Years Ago…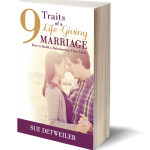 O how time flies when you are having fun! It was over 20 years ago when God called me to write and now celebrate with me that my second book is coming out on October 2! In fact, I would love for you to have a free download of the introduction and the first chapter. You don't even have to wait! You can have instant access just by clicking this button!Download Here
I would love to hear your comments…