Every mom needs encouragement.
You need to know that the meaning of your life is not measured by the sum total of the mundane moments and monotonous tasks of motherhood. You need to know not only that what you are doing something that has a purpose, but that you are able to express need fresh presence and power that comes from Jesus Christ in the part of the detail of your life.
Mom's need the encouragement of knowing that we are not alone. We all need friends. Not the kind of friends that have it all together in their picture perfect homes with their fashion ready model children. No, you need friends who will be honest with their own struggles and can cheer you on.  Today, find encouragement in the joy that you are not alone in the calling of being a mom.
Happy Mother's Day!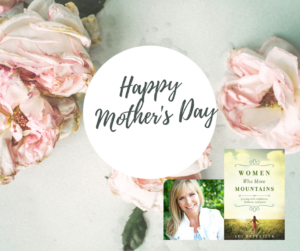 Be Encouraged Every Day!
To find out more about Sue Detweiler, her books and radio ministry click here 
Order your copy of Women Who Move Mountains Today! Click the picture to download chapter 1 and the introduction of Women Who Move Mountains.