Fear is a Thief
Fear steals our freedom. It runs away with our hope. Fear makes me obsess about myself and all my limitations. Fear keeps us from connecting in community. It keeps us from taking the risks we need to take to obey God. Fear keeps me from totally trusting God. It keeps me from living in this moment and fully enjoying life.
Jesus knew that fear would be deadly in our lives. While Jesus was on earth, he gave us 125 imperatives or commands in Scripture. Of those 125 — 21 of them deal with the topic of fear. Jesus said things like:
Have courage

Don't be afraid

Take heart
Jesus continued to encourage his disciples to not be afraid and to follow him completely. 
How do we combat fear?
We combat fear by putting it in the right perspective. You and I don't actually have a fear-problem… we have is a faith-problem. Our goal should not be to have a "fear-free life." In fact if that is your goal you will almost always be disappointed. You will never have a fear free life. God is not the means of "fear avoidance"
We overcome fear with faith. We stop allowing fear to steal from us. The focus should not be on how to fear less, but how to trust God more. The Holy Spirit often brings peace to us as we read and meditate on Scripture.
I love this passage:
1 I lift up my eyes to the mountains—

    where does my help come from?

2 My help comes from the Lord,

    the Maker of heaven and earth.

3 He will not let your foot slip—

    he who watches over you will not slumber;

Psalm 121 (NIV)

The phrase "lift my eyes to the hills" is a Hebraic thought for focusing our attention on the maker of heaven and earth. One of our biggest human freedoms is the ability to choose what I am going to pay attention to and what I am not. 
I can focus on my problems…
I can focus on my relationship that may go sideways…
I can focus on my financial issue…
I can focus on that person from work who is trying to take me down…
I can focus on the problems my kids are going through…
I can focus on all the things that make me afraid…
OR
I can choose to focus on God
I can focus on how He has been faithful to me in the past
We All Need Encouragement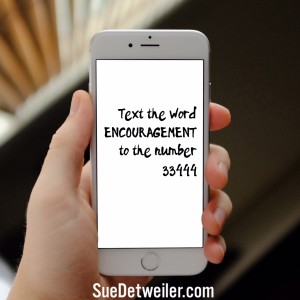 In the morning I will send you something. It might be a verse or a quote — something to encourage you.  Just text the word ENCOURAGEMENT to the number 33444.
We need something every once in a while that will focus us and give us encouragement
Read again Psalm 121:1-2 again…
1 I lift up my eyes to the mountains—
    where does my help come from?
2 My help comes from the Lord,
    the Maker of heaven and earth.
HE'S THE MAKER OF HEAVEN AND EARTH! We overcome fear when we understand that God is in control. We can't manipulate our way into our destiny. We need to trust God completely,
For I know the plans I have for you," says the Lord. "They are plans for good and not for disaster, to give you a future and a hope." Jeremiah 29:11 (NLT)
Notice it does not say …" the plans that YOU have for YOU." It may be hard for you to realize, His purpose is to prosper you and to give you a future and a hope. 
So Don't Let Fear Steal from You
I pray that you will rest in the fact that the God of the Universe still reigns on high. Whatever difficult thing you are experiencing, He is still bigger. His purpose for your life will prevail as you learn to trust Him more!