Learning to Walk in Grace
I remember my first Easter with my oldest daughter Rachel when she was 9 months old. We were having an Easter Egg hunt in our neighborhood and wouldn't you know, it snowed that morning in Tennessee… but all of us moms, still got out there with our Easter Eggs and baskets
I can't describe to you the joy that I felt as my 9 month old daughter Rachel was able to walk with me by holding my hand… She was still pretty unsteady… but by holding my hand she was able to reach down and pick up and egg … It was the first time that I celebrated Easter through the eyes of a child…
We were so excited about every step that Rachel took… I don't ever remember the falls that Rachel had … She would take a few steps with her little legs and then take a tumble… But we would be going crazy…. screaming… shouting… taking picture of this momentous event of her first steps!
I don't remember ever sitting on the couch saying…
"Come on Rachel… you can do better than that… I'm walking… why are you falling… Haven't you mastered this yet? Your dad can walk… grandma can walk… come on! What's wrong with you?"
NO! I never did that.
The falls never frustrated me.
I don't remember the falls. Rachel turns 26 on May 24. She knows how to walk now (and falls a lot less). 
But when she was little, there were times she took a fall and she had a bloody knee that needed bandaging… She also needed to be cuddled and held and her boo boo kissed.  Then, a bright smile would light up her face and off she would go again.
So it is with our heavenly father
who rejoices in every step you have ever taken
and heals every fall.
So it is with our heavenly father
who loves to see us run
and never tires of picking us up
In fact, God forgets (the falls). "As far as the east is from the west" (I have forgotten the falls). 
Jesus is saying,
"What falls? All I see is the steps. Some of us are absolutely consumed with the falls. What falls? Trust me to help you walk again.  Just turn around from your sin and walk towards me!"
There is often something inside of us that feels like God is going to love some future version of ourselves better. It's not true. God is not tired of picking you up. It's about the journey, not about arriving. 
You and I are never going to "deserve" God's favor. I can't live a perfect life. You can't live a perfect life.
JESUS DID LIVE A PERFECT LIFE.  So when Jesus went to the cross, he could pay a moral debt that you and I could never pay. He died a spiritual death – that you and I could never die.
Daily Encouragement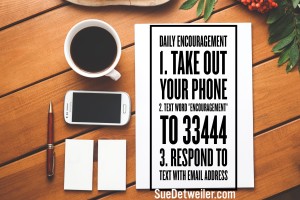 If you would like to receive daily encouragement from me, take out your phone and text the word ENCOURAGEMENT to the number 33444. You will receive a text message and just respond with your email address and you will be set up to receive a short encouraging word from me on Monday through Friday.
Your Guide to Spiritual Breakthrough
I've prepared a guide for you to help prepare your heart for a fresh season of encountering God's presence and power. Take some focused time to spend with your heavenly father and let His love wash over you.