Praying scriptures can help build a marriage that lasts. Download your printable here. 
Week 4 – 9 Traits Marriage Study (Endurance)
If you have been married for any length of time, you likely have experienced stress in your marriage. Some stress factors may include:
The death of someone you loved.
A difficult or demanding job.
Sexual dysfunction.
Health challenges.
Financial challenges.
Special needs of your children.
Buying or selling a house.
The list goes on and on…
Without the life-giving trait of endurance, the stress of life will ruin your once healthy marriage.
Sometimes we bury stress or pretend it doesn't exist. A better tactic is acknowledging it and looking to God as our source of relief and endurance.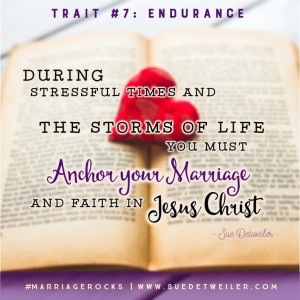 Let's discuss Chapter 7 of #MarriageRocks
Read Chapter 7 of 9 Traits of a Life-Giving Marriage. Reflect and journal the following questions. If you signed up, you will receive a free download today in email that you can use.
Is there any hidden neglect blocking the healthy life-giving flow of your marriage?
Jesus promises abundant life. (John 10:10). What are some ways you can encourage your spouse with the hope that you can get through any circumstance?
God is good. His goodness never changes. Look up some verses in God's Word that confirms we can rely on Him for support, comfort, and strength.
We will see you back here next week to wrap up our study discussing chapters 8 and 9.
Invite Your Friends:
There's still time to also invite your friends to join you for this Study: