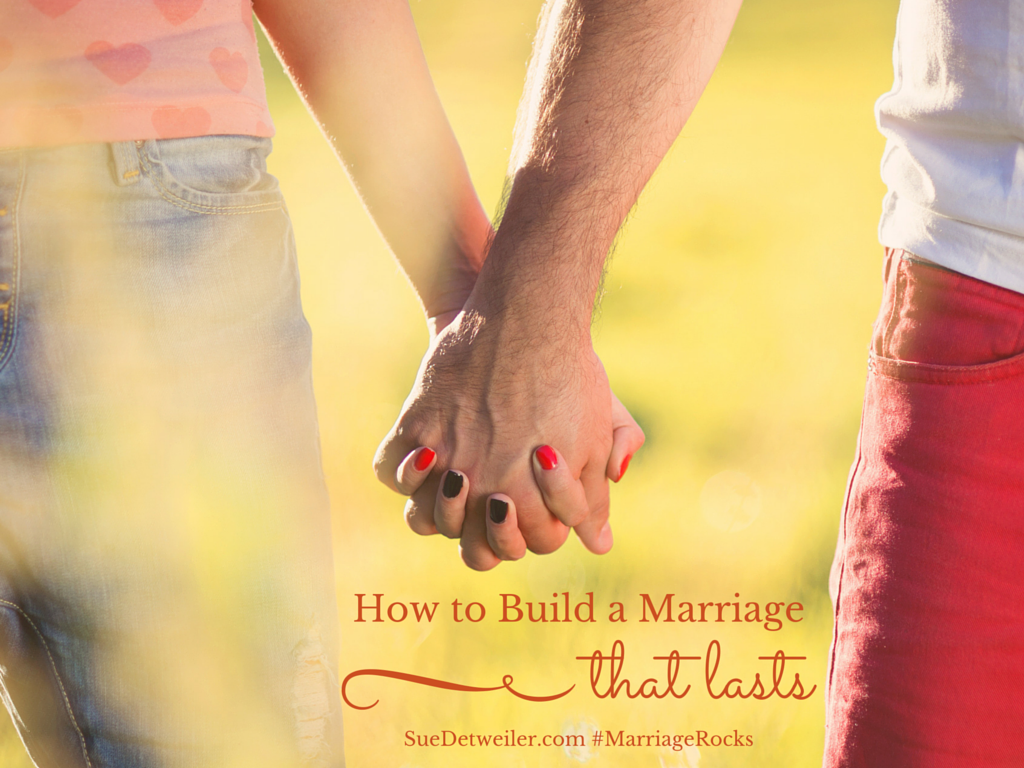 Read Time:
4 Minute, 57 Second
How to Build a Marriage that Lasts
Everyone wants to build a marriage that lasts, but constant pressure can squeeze out the joy in a marriage. The stress of life can push our emotions and our relationships to the breaking point. Well-placed faith fuels our endurance. But please know, this race isn't about survival; it's about experiencing God's best for your marriage.
Stress is the strain and pressure from life. It creates physical and mental tension in our bodies. We can be overcome with worry and anxiety. As humans, we can only bear an overload of stress of life for so long before something gives way. Like a rubber band stretched beyond its capabilities, your marriage can snap or even break. As Christians, we don't mean to be in denial, but, sometimes, we use our faith-filled perspective to overlook the realities
The enemy attacks during times of stress, when life seems overwhelming. But Jesus promises abundant life. Rather than burying stress or pretending it doesn't exist, a better tactic is acknowledging it and looking to God as our source of relief and endurance.
The apostle Paul went through a great deal of stress in his life. He was stoned and left for dead. He was taken prisoner unjustly. He was shipwrecked. He knew what it meant to suffer, yet, while in prison, he wrote these words:
…that I may know Him and the power of His resurrection, and the fellowship of His sufferings, being conformed to His death…. Philippians 3:10 (NKJV)
One of the ways we get to know God is through suffering. I hate to say it, but marriage can be a crucible in which we must die to our flesh over and over again.
The purifying process in your own marriage carries the precious metal of the mystery of Christ. Marriage after all, represents our relationship with Christ. All Christians, male and female, are the bride of Christ.
The enemy wants this purifying process to discourage you. He wants to destroy you and your marriage. We know from Scripture:
The thief does not come except to steal, and to kill, and to destroy. I have come that they may have life, and that they may have it more abundantly. John 10:10 (NKJV)
This verse carries a warning and a promise. The warning is: Watch out! You have a very real enemy. He seeks to steal. He tries to kill. He strives to destroy. The enemy attacks during times of stress, when life seems overwhelming. But Jesus promises abundant life. Just like Jesus went through crucifixion and came out the winner, so can you!
Yes, on this earth we go through tough things, but it is in fellowshipping with Jesus during these times of suffering that we become more like Him. After you go through experiences where your flesh is crucified, you begin to experience the power of His resurrection in your daily life.
I want to be careful at this point not to falsely predict that, if you are in a struggling marriage, you will not divorce. I can't control your choices. Nor can you control the choices of your spouse. I know too many people who did not want or choose a divorce, but ended up divorced nonetheless. But know this: The promise Jesus has for you is bigger than your marriage. It is a promise to you personally. No matter what happens, you can find the peace and strength to endure when you trust in Christ.
That said, this promise of abundant life does apply to our marriages as Jesus is given liberty and leadership in our lives. Jesus has defeated the enemy on the cross. The enemy may attack you, but he won't be able to win if you and your spouse commit to rely on Christ to direct your hearts, minds, and actions.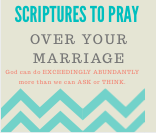 Praying scriptures can help build a marriage that lasts. Download your printable here. 
Week 4 – 9 Traits Marriage Study (Endurance)
If you have been married for any length of time, you likely have experienced stress in your marriage. Some stress factors may include:
The death of someone you loved.
A difficult or demanding job.
Sexual dysfunction.
Health challenges.
Financial challenges.
Special needs of your children.
Buying or selling a house.
The list goes on and on…
Without the life-giving trait of endurance, the stress of life will ruin your once healthy marriage.
Sometimes we bury stress or pretend it doesn't exist. A better tactic is acknowledging it and looking to God as our source of relief and endurance.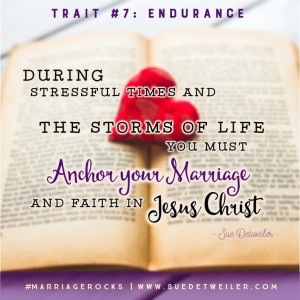 Let's discuss Chapter 7 of #MarriageRocks
Read Chapter 7 of 9 Traits of a Life-Giving Marriage. Reflect and journal the following questions. If you signed up, you will receive a free download today in email that you can use.
Is there any hidden neglect blocking the healthy life-giving flow of your marriage?
Jesus promises abundant life. (John 10:10). What are some ways you can encourage your spouse with the hope that you can get through any circumstance?
God is good. His goodness never changes. Look up some verses in God's Word that confirms we can rely on Him for support, comfort, and strength.
We will see you back here next week to wrap up our study discussing chapters 8 and 9.
Invite Your Friends:
There's still time to also invite your friends to join you for this Study: