Launching Out Into the Deep
Sometimes, God calls us to get in over our heads… Launching out into the deep requires you go deeper in your faith, hope, and trust in God.*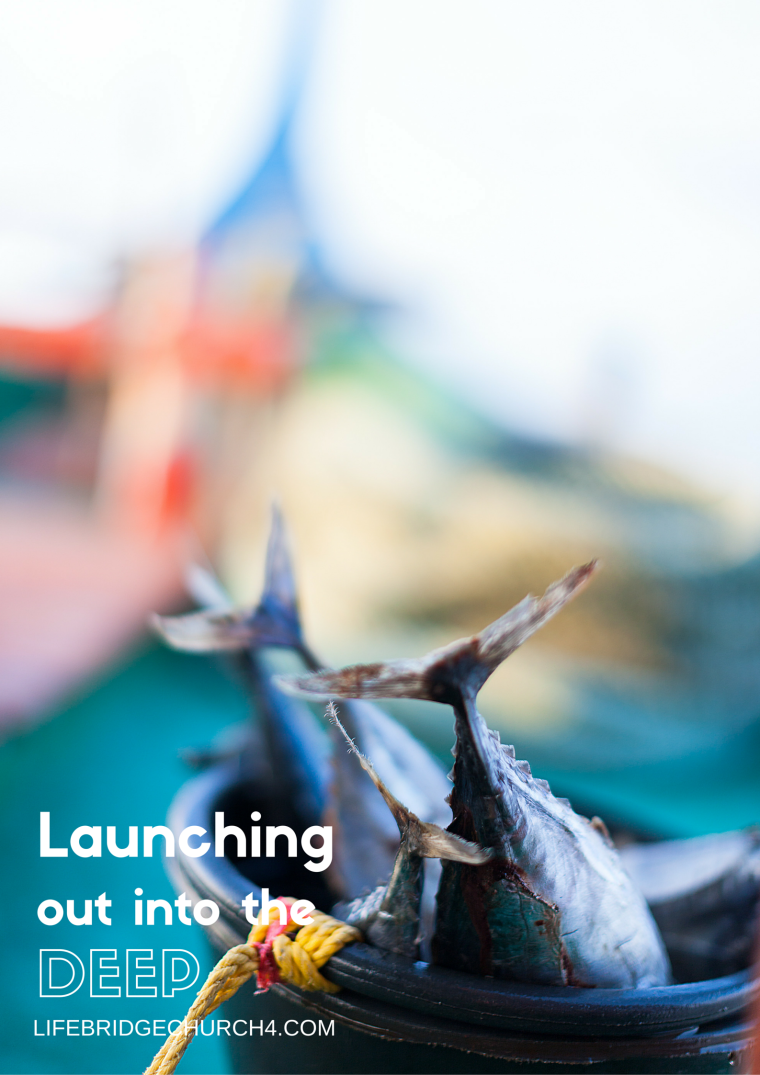 Jesus Calls Us Deeper
When Jesus had finished speaking, he said to Simon, "Now go out where it is deeper, and let down your nets to catch some fish."

"Master," Simon replied, "we worked hard all last night and didn't catch a thing. But if you say so, I'll let the nets down again."  And this time their nets were so full of fish they began to tear!  A shout for help brought their partners in the other boat, and soon both boats were filled with fish and on the verge of sinking.

When Simon Peter realized what had happened, he fell to his knees before Jesus and said, "Oh, Lord, please leave me—I'm such a sinful man."  For he was awestruck by the number of fish they had caught, as were the others with him. Luke 5:4-9 NLT
Jesus called Peter to be his disciple on a rough day.  Peter and his companions had been out all night fishing and they caught nothing.  Tired, hungry, surrounded by a multitude of people, Peter tried to stretch out and clean his net so that they could go out fishing again that night. He had a lot of people depending on him as a business owner; he couldn't afford another day without catching fish. The multitude was pressing Jesus and power was going out of Him so that everyone around was being healed (Luke 5:1-11).  Before Peter knew it, Jesus had stepped on his boat and charged him to put out a little from the land so that He could sit down and teach the crowd.  Peter didn't mind. In fact, listening to Jesus teach made the tedious work of washing nets go faster.  He had heard about Jesus and he was curious to know if the message and the messenger was real.
After Jesus stopped speaking, he asked Peter to launch out to the deep and let down their nets for a catch.  This was completely ridiculous.  Peter, as a fisherman knew that the right time to fish was at night. He also knew that you caught more fish in shallow water.  Peter wanted to correct this rabbi, but he had spoken with such authority that he simply said "Master, we have toiled all night and caught nothing; nevertheless at Your word I will let down the net" (Luke 5:5).  It was at this point that Peter knew he was not dealing with any ordinary rabbi.  Not only did they catch fish during the day in deep waters, they caught so many fish that their net was breaking and they had to get their partners to come and help them. Both boats almost sank.  Simon Peter was so overwhelmed by the supernaturally abundant catch of fish, that he fell at Jesus' knees and said, "Master, leave. I'm a sinner and can't handle this holiness. Leave me to myself."(Luke 5:8 Message)
But Jesus looked deeper into Peter.  Others saw a rough, impetuous fisherman to spoke more than he thought.  They laughed and called him "Simon" which means "shifting sand" But Jesus called him "Peter" which means rock.  He saw the potential in Peter to be a great leader who would "catch" men. 
Launching Out into the Deep Waters
Jesus is constantly calling us to launch out into deeper waters. He is calling you to go deeper in Him… to trust and rely on Him more. He wants to increase your impact on other people. He is going to multiply your efforts. Even if you have toiled all night, you can through your net on the other side of the boat and have a "supernatural-catch." 
Be Encouraged Every Day!
To find out more about Sue Detweiler, her books and radio ministry click here