God is a good Judge of Character
Have you ever felt like God's call on your life was too BIG for you to accomplish? Do you ever wonder if you really have the gifts and abilities to do what God has called you to do? God is not only a good judge of our character, He transforms our character to be more like His.
Even though Moses had been raised in the palace of pharaoh and equipped by the expertise of the Egyptians, he was also a murderer and a run-away. After the many years of isolation after his crime, Moses felt ill-prepared to answer God's call from the burning bush. God said:
"Look! The cry of the people of Israel has reached me, and I have seen how harshly the Egyptians abuse them.  Now go, for I am sending you to Pharaoh. You must lead my people Israel out of Egypt."

But Moses protested to God, "Who am I to appear before Pharaoh? Who am I to lead the people of Israel out of Egypt?" Exodus 3:9-11 (NLT)
I know you must have felt at times, "who am I to …" We all do. None of us (except the narcissist's) feel like we can do what God has called us to do. His call is always bigger than we can accomplish by ourselves. The BIG thing He calls us to do begins with tiny steps of obedience.
The key to success is to not depend upon yourself, but to totally trust God. He is the ONE who will transform you into the person He is calling you to be. The world judges us by our past sins and if we are not careful we listen to these accusations. But Moses was more than a "murderer" in God's eyes. He was the deliverer of His people.
Have you ever noticed that God is a great judge of character?
I want to a better evaluator of character like God is. He is able to see beyond people's past mistakes, and see the future possibilities. He calls you to something, then He equips you to be the person He has designed you to be. His transformation comes through His power and His presence. Little by little we become more like Him through the daily choices of obedience.
God is also able to see when someone is proud and secretly sinful. He's able to discern the heart of the charlatan or swindler who tricks people in order to obtain money, fame or other advantages through pretense or deception. God looks at the heart of the person, not just the appearance of success.
Our Character Reflects Our Choices
I have not met a child who wants to grow up to be a charlatan or swindler. Every child I know has at one point put a cape on their shoulders and pretended to be superman or wonder-woman. It's the enemy who deceives and twists and tempts us to make poor choices,steal, exaggerate or lie.
God is faithfully calling you and I to be faithful and free from the traps of the enemy. He changes us from the inside out. It's important to listen to the Holy Spirit and turn away from the slippery slope of sin.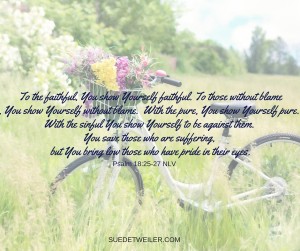 To the faithful, You show Yourself faithful. To those without blame, You show Yourself without blame.  With the pure, You show Yourself pure. With the sinful You show Yourself to be against them. You save those who are suffering, but You bring low those who have pride in their eyes. Psalm 18:25-27 NLT
Become a Good Judge of Character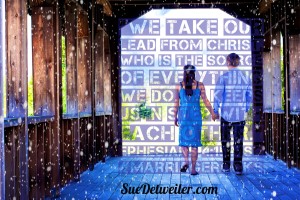 The best way to be a good judge of character is to take your lead from Christ himself.  Download our free We Take Our Lead from Christ printable.
Be Encouraged Every Day!


To find out more about Sue Detweiler, her books and radio ministry click here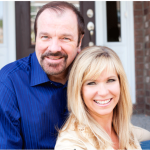 Daily Encouragers…
Wayne and Sue Detweiler relocated to Frisco Texas (a growing community north of Dallas) to plant and pastor Life Bridge Church which meets every Sunday morning at 10 am at The Cinemark Theatre 5655 Frisco Square Blvd, Frisco, TX 75034. They are building a life-giving community and welcome innovative leaders to get involved in reaching neighbors, nations, and generations with the good news of Jesus Christ's love and power.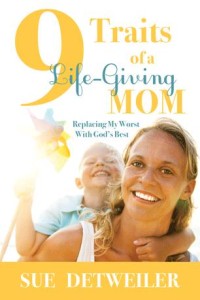 Sue has had a calling to write books for many years. When she prayed about which book to write first she was
surprised when she sensed God leading her to write 9 Traits of a Life-Giving Mom.  Every mom wants to be the best mom in the world to her children but often she feels like the worst. This is how Sue has felt as they have raised 6 children. In the middle of having her two daughters get married 7 weeks apart, 9 Traits of a Life-Giving Mom hit number 1 on Amazon's Hot New Releases and gained popular momentum with moms groups and online communities.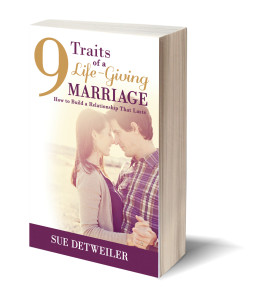 With over 25 years of marriage and ministry, Wayne and Sue have a heart help couples to build marriages that last.  Sue's newest book, 9 Traits of a Life-Giving Marriage, grew out of their heart to help couples grow closer to God and to each other. In their pastoral ministry to marriages, Wayne and Sue have seen how sharing their own struggles can help create a safe context for couples to be transparent and honest with their own issues. They have been helping couples find freedom and transformation through conferences, marriage retreats, seminars, and coaching through out their entire marriage. Known for their transparency and honesty, Wayne and Sue have helped hundreds of couples find freedom and transformation in their own marriages.
To invite Sue (or Wayne & Sue) to speak at your event click here.
The nationally syndicated Healing Rain Radio Broadcast was launched to provide daily encouragement to listeners. When Sue arrived in the Dallas Metroplex, Sue was already being heard on popular Dallas Radio Station KCBI. Often when people hear her voice or name they realize that she has already been a daily inspiration to them via the airwaves.
To add Sue's radio broadcast to your local station click here.