DO YOU WONDER WHAT PATH YOU SHOULD TAKE?
The Power of PRAYER
Jen Forsthoff reflects on how she has found God's path through the power of prayer that she learned from her mom. Here's an excerpt from her book Chosen for Charlie which is coming out May 6.
The effectual fervent prayer of a righteous man availeth much. —James 5:16 (KJV)

I believe that I am who I am today because of something my mother has done since before I was born. Something she has dedicated herself to faithfully, selflessly, and passionately. Something she did in what scrip- ture calls "the secret place," with other believers, and with also me as she tucked me into bed each night. My mother has been, and continues to be, a woman of prayer.

For more than twenty years now, she has gathered with other Chris- tian mothers who choose to stand in faith for their children through prayer. She has "prayed the scriptures" over my life and interceded for me in every season of life as a young child, an ornery teenager, a busy college student, a working woman, a new wife, and now a mother.

"Praying the scriptures" is simply asking God to do what His Word promises He will do. Entire books have been written about it by Bible scholars as well as those who have simply discovered how wonderful and effective it is.
In Psalm 103:20 it says:

Bless the LORD, you angels who belong to him, you mighty warriors who carry out his commands, who are obedient to the sound of his words. (NIV)

So my mother made a habit of finding those scripture verses (His Words) and praying them for those she loved.

I believe her prayers helped me to hear the call of God for my life, find and marry a man who loves God and loves me, and to know the will of God and experience His provision, peace, and protection on a daily basis. My mother's prayers are precious and priceless to me. Her faithful example taught me what a mother can be for her children—a prayer warrior momma.Download the first chapter of Chosen for Charlie
The Bible is our Guidebook for PRAYERS
If you ever wonder which way to go take a moment and ask, ask God which way, ask him for directions.  You know we joke about how it may be a husband or a wife either one of them that are so proud they don't stop to ask when they are lost.  But, think about it for yourself if you are feeling lost, stop and ask. God is the one that has direction for your life.
The Bible becomes a guidebook for our prayers.
"Show me the right path, O Lord;

point out the road for me to follow."

Psalm 25:4 NLT
[inlinkz_linkup id=627486 mode=1]
Become Fearless
Become fearless by always seeking God and taking his path for your life!  Get our free Fearless guide.
Be Encouraged Every Day!
To find out more about Sue Detweiler, her books and radio ministry click here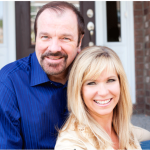 Daily Encouragers…
Wayne and Sue Detweiler relocated to Frisco Texas (a growing community north of Dallas) to plant and pastor Life Bridge Church which meets every Sunday morning at 10 am at The Cinemark Theatre 5655 Frisco Square Blvd, Frisco, TX 75034. They are building a life-giving community and welcome innovative leaders to get involved in reaching neighbors, nations, and generations with the good news of Jesus Christ's love and power.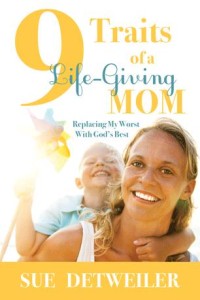 Sue has had a calling to write books for many years. When she prayed about which book to write first she was
surprised when she sensed God leading her to write 9 Traits of a Life-Giving Mom.  Every mom wants to be the best mom in the world to her children but often she feels like the worst. This is how Sue has felt as they have raised 6 children. In the middle of having her two daughters get married 7 weeks apart, 9 Traits of a Life-Giving Mom hit number 1 on Amazon's Hot New Releases and gained popular momentum with moms groups and online communities.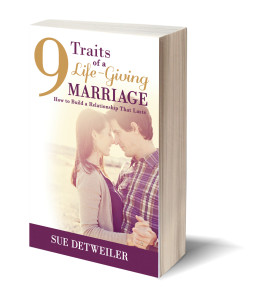 With over 25 years of marriage and ministry, Wayne and Sue have a heart help couples to build marriages that last.  Sue's newest book, 9 Traits of a Life-Giving Marriage, grew out of their heart to help couples grow closer to God and to each other. In their pastoral ministry to marriages, Wayne and Sue have seen how sharing their own struggles can help create a safe context for couples to be transparent and honest with their own issues. They have been helping couples find freedom and transformation through conferences, marriage retreats, seminars, and coaching through out their entire marriage. Known for their transparency and honesty, Wayne and Sue have helped hundreds of couples find freedom and transformation in their own marriages.
To invite Sue (or Wayne & Sue) to speak at your event click here.
The nationally syndicated Healing Rain Radio Broadcast was launched to provide daily encouragement to listeners. When Sue arrived in the Dallas Metroplex, Sue was already being heard on popular Dallas Radio Station KCBI. Often when people hear her voice or name they realize that she has already been a daily inspiration to them via the airwaves.
To add Sue's radio broadcast to your local station click here.