Make God Your Comfort
We live in a culture that avoids pain. We don't want to be inconvenienced. We expect high quality and service. Our affluence sometimes blinds us of our real need for God.
When you need comfort who or what do you run to? Where do you go when you feel stressed? Do you find comfort in:
status
success
shopping
relationships
food
leisure
netflix
Addictions are simply things that people run to — to avoid the pain in their lives. We can all become addicted to things that we try to use in place of God.
After finding myself standing at my pantry door — I realized that food has been my comfort for far too long. Add a special dose of "Netflix" and I am set to "unwind" from a stress-filled day.
Can you Hear His voice as He gently calls to you?
I am you shepherd;
    I have all that you need.
Rest in my green meadows;
    Enjoy my peaceful streams.
Renew your strength.
Walk along my safe paths,
    (adapted from Psalm 23)
God promises us that we are not alone. In fact, in the deepest darkest places in our lives this is what He promises us:
When you walk
    through the darkest valley,
Don't be afraid,
    stay close beside me.
My authority will
    protect and comfort you.
I will prepare a feast for you
    in the presence of your enemies.
I will honor you and make you great.
In our weakness, he not only protects us and keeps us safe… He also catapults us into our destiny. He uses the difficult things to shape us and make us more like Him. He develops his pastoring heart and makes it beat in our chest for others.
All of us are broken and in need of mending. We are frightened and in need of his peace. We are stressed and in need of his presence.
So think about your life.  What is it that you run to for comfort? What is it that counterfeits as your God?
Prestige
Money
Power
Friends
Leisure
Food
These are mere distractions. When we allow our selves to become dependent on anything other than God, we are lessening HIs power in our lives. If we try to walk through the valley of the shadow of death without God, the enemy will wait and hide and steal from us. Jesus said this about the enemy of your soul:
Choose Abundant Life
Let's stop allowing the enemy to steal our joy and purpose in our lives. Let's stop running from pain and trust God to comfort our souls and turn our sorrow into joy!
Be Fearless
Get our free guide – Fearless: 5 Promises for Everyday Life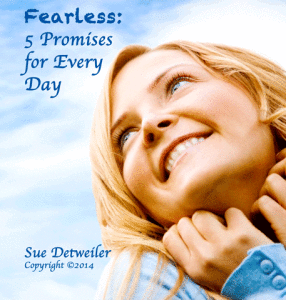 Remember Who to Trust
Be Encouraged Every Day!
To find out more about Sue Detweiler, her books and radio ministry click here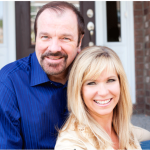 Daily Encouragers…
Wayne and Sue Detweiler relocated to Frisco Texas (a growing community north of Dallas) to plant and pastor Life Bridge Church which meets every Sunday morning at 10 am at The Cinemark Theatre 5655 Frisco Square Blvd, Frisco, TX 75034. They are building a life-giving community and welcome innovative leaders to get involved in reaching neighbors, nations, and generations with the good news of Jesus Christ's love and power.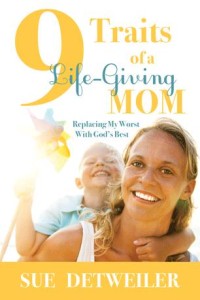 Sue has had a calling to write books for many years. When she prayed about which book to write first she was
surprised when she sensed God leading her to write 9 Traits of a Life-Giving Mom.  Every mom wants to be the best mom in the world to her children but often she feels like the worst. This is how Sue has felt as they have raised 6 children. In the middle of having her two daughters get married 7 weeks apart, 9 Traits of a Life-Giving Mom hit number 1 on Amazon's Hot New Releases and gained popular momentum with moms groups and online communities.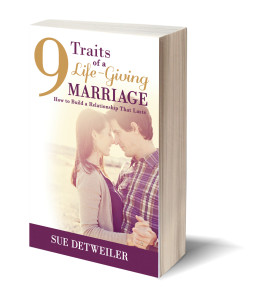 With over 25 years of marriage and ministry, Wayne and Sue have a heart help couples to build marriages that last.  Sue's newest book, 9 Traits of a Life-Giving Marriage, grew out of their heart to help couples grow closer to God and to each other. In their pastoral ministry to marriages, Wayne and Sue have seen how sharing their own struggles can help create a safe context for couples to be transparent and honest with their own issues. They have been helping couples find freedom and transformation through conferences, marriage retreats, seminars, and coaching through out their entire marriage. Known for their transparency and honesty, Wayne and Sue have helped hundreds of couples find freedom and transformation in their own marriages.
To invite Sue (or Wayne & Sue) to speak at your event click here.
The nationally syndicated Healing Rain Radio Broadcast was launched to provide daily encouragement to listeners. When Sue arrived in the Dallas Metroplex, Sue was already being heard on popular Dallas Radio Station KCBI. Often when people hear her voice or name they realize that she has already been a daily inspiration to them via the airwaves.
To add Sue's radio broadcast to your local station click here.