Power Struggles
How do you overcome power struggles in marriage? What is your go-to-strategy? Is it working?
Watch this short video when I recall a power struggle in our home:
If you have found yourself doing this particular power dance before in your marriage, how about learning a new way to build more intimacy in your marriage. Here are a few things that helped.
1. Admit When you are Wrong
Did you grow up in a home of debaters? I did. Whenever there was a disagreement, the person with the quickest wit would "win" the argument.
If you can learn the simple step of admitting when you are wrong, you will overcome many power-struggles.
2. Watch Your Language
Choosing words carefully can make the difference between a spirit of reconciliation vs. combustion. Words such as "You ALWAYS…" or "You NEVER…" can cause someone to feel accused. Rather than blaming someone for your disagreement, choose words that are understanding of their felt need. Take time to affirm your commitment to your relationship rather than threaten to end it.
3. Watch Your Tone
Become aware of your tone of voice. If your inflection sounds irritated, bored, or defensive, you will have much more difficulty communicating from the heart. Make sure that you are able to to speak during a moment that you are not overly stressed or pushed for time. Your tone will naturally be filled with affirmation when you take time to think positively about your relationship.
4. Affirm Your Commitment
Threats take an argument into a war-zone. Take time to frame your concern with affirmation of your commitment. Think about things that you appreciate in your relationship. 
5. Don't Back Your spouse into a corner
Remember, your spouse is not your enemy. Don't back them in the corner, arguing your position. 
You want to create a place where it is safe to share concerns without fear of losing ground in your relationship. 
I hope you will take time to invest in your relationship. We wrote 9 Traits of a Life-Giving Marriage with you in mind.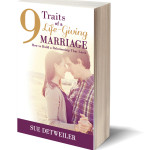 5 FREE Gifts:
1. Printables of 9 Traits
2. Printables of Prayers
3. MP3 of Healing Rain 
4. PDF copy of 9 Traits of a Life Giving Mom
5. $50 Voucher Towards the 2016 Marriage Conference in Dallas, TX