Learning to Walk Humbly
Part of maturity is learning to walk humbly with God and with each other. Selfishness and pride squeeze the life out of relationships. When you and I really love someone, we learn to walk humbly with them.
Jesus is our best model for humility.
Jesus showed us how to walk humbly. When he came to this earth, he showed us how to live and relate with others.
5 You must have the same attitude that Christ Jesus had.
6 Though he was God,
    he did not think of equality with God
    as something to cling to.
7 Instead, he gave up his divine privileges;
    he took the humble position of a slave
    and was born as a human being.
When he appeared in human form,
8     he humbled himself in obedience to God
    and died a criminal's death on a cross. Philippians 2:5-8 NLT
Humility is learning to lay down your life for others. Humility is also rising up to fully be who God has called you to be. As you walk humbly with God, there will be times that you are "crucifying your flesh."  You will die to selfishness, even as you rise up to a higher purpose in Him. Profound humility leads to God's exaltation. Jesus again shows us the way:
9 Therefore, God elevated him to the place of highest honor
    and gave him the name above all other names,
10 that at the name of Jesus every knee should bow,
    in heaven and on earth and under the earth,
11 and every tongue declare that Jesus Christ is Lord,
    to the glory of God the Father. Philippians 2:9-11 NLT
Do you feel like you have the corner on truth?
Let's face it no one has a corner on truth no matter how convinced you are that you're right.  Consider what the other person has said — before you open your mouth.  Only then speak the truth in love allowing Jesus, the truth giver to lead the conversation. Learning to walk humbly will mend friendships.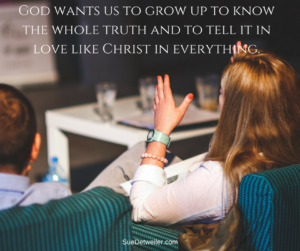 God wants us to grow up to know the whole truth and to tell it in love like Christ in everything.  Even when your intentions are right, your perspective can easily be tainted by pride and twisted by deception.  Part of growing up is walking humbly with the knowledge that on a regular basis you're wrong, but God is right.
 "Instead, speaking the truth in love,

we will grow to become in every respect the mature body of him who is the head,

that is, Christ." Ephesians 4:15
Be Encouraged Every Day!

To find out more about Sue Detweiler, her books and radio ministry click here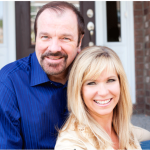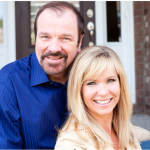 Daily Encouragers…
Wayne and Sue Detweiler relocated to Frisco Texas (a growing community north of Dallas) to plant and pastor Life Bridge Church which meets every Sunday morning at 8:30 am at The Roots 6142 Frisco Square, Frisco, TX, 75035. They are building a life-giving community and welcome innovative leaders to get involved in reaching neighbors, nations, and generations with the good news of Jesus Christ's love and power.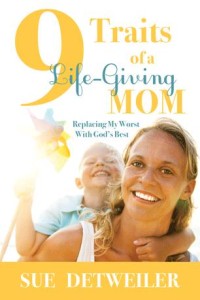 Sue has had a calling to write books for many years. When she prayed about which book to write first she was
surprised when she sensed God leading her to write 9 Traits of a Life-Giving Mom.  Every mom wants to be the best mom in the world to her children but often she feels like the worst. This is how Sue has felt as they have raised 6 children. In the middle of having her two daughters get married 7 weeks apart, 9 Traits of a Life-Giving Mom hit number 1 on Amazon's Hot New Releases and gained popular momentum with moms groups and online communities.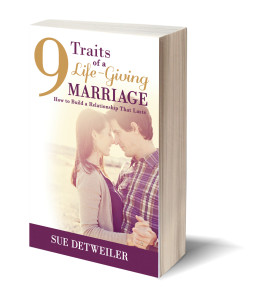 With over 25 years of marriage and ministry, Wayne and Sue have a heart help couples to build marriages that last.  Sue's newest book, 9 Traits of a Life-Giving Marriage, grew out of their heart to help couples grow closer to God and to each other. In their pastoral ministry to marriages, Wayne and Sue have seen how sharing their own struggles can help create a safe context for couples to be transparent and honest with their own issues. They have been helping couples find freedom and transformation through conferences, marriage retreats, seminars, and coaching through out their entire marriage. Known for their transparency and honesty, Wayne and Sue have helped hundreds of couples find freedom and transformation in their own marriages.
To invite Sue (or Wayne & Sue) to speak at your event click here.
The nationally syndicated Healing Rain Radio Broadcast was launched to provide daily encouragement to listeners. When Sue arrived in the Dallas Metroplex, Sue was already being heard on popular Dallas Radio Station KCBI. Often when people hear her voice or name they realize that she has already been a daily inspiration to them via the airwaves.
To add Sue's radio broadcast to your local station click here.