The Secret to Better Sex in Marriage
How can we have better sex in a Christian marriage? 
During a premarital seminar we attended, I remember a man saying, "In the beginning, we weren't very good at making love." However, he also encouraged, "You get better at it."
That man was right.
As my husband and I grew together and got to know each other physically, as well as emotionally and spiritually, we came to understand that every life-giving marriage is connected to the ultimate Life-Giver—the One who made sexual intimacy in marriage to be a holy experience.
And as part of that growth, we've also discovered a powerful truth that has brought incredible healing and given us a more passionate marriage that we never thought possible.
Our Path Towards Better Sex
In 1990, our house caught fire with my newborn daughter and me inside. Trapped by smoke and flames, I was unable to get to my baby in her crib. Thankfully, my husband came home in time. He and a fireman rescued both of us from the fire. (You can read more about this event in 9 Traits of a Life-Giving Mom).
Our marriage went from low-grade stress to over-the-top stress level. Not only were we fighting with our insurance company to pay for the damages of our home, we fought with each other every day.
Our newborn daughter developed colic, screaming inconsolably for hours at a time. Emotionally numb, we struggled to survive each day as we stumbled through our pastoral duties. Our own need for healing, individually and as a couple, made us less effective in our ministry.
Our sex life shifted from difficult to nonexistent. As a new mother with milk-engorged breasts and an overweight body, I felt more like a feeding station than a vibrant, sensual young woman. Pregnancy and childbirth brought changes in my hormones and left painful, physical reminders that made the thought of sex completely unappealing.
The stress from fire pushed our relationship over the edge. Both Wayne and I knew we needed help if our marriage was going to work.
We approached our ministry supervisor, who pointed us to a prayer-counseling ministry that included a weekend-long session. With our ten-month-old baby who was still nursing, we traveled eight hours to the event, prayerful that God would show us a solution.
Throughout the weekend, pastoral leaders shared from the heart. They were honest and candid about their own brokenness and shared how they found healing. In addition to group sessions where we heard testimonies of renewed relationships, Wayne and I received individual ministry. We met with pastoral counselors with whom we shared painful experiences in our lives.
During that time of counseling and confession, we each uncovered how events from our past darkened the lens through which we viewed sex.
Being honest with each other and with God allowed His light to shine into our relationship and mend our broken places. As a result, our sexual intimacy went from being the coldest part of our relationship to being hot and steamy.
Adding to our newfound physical intimacy was a spiritual unity like we had never experienced in our lives. Wayne initiated a time of prayer early in the mornings before he went to his secondary job. Very often, we made love after that time of prayer together before he left for his early morning shift.
The spiritual fulfillment of prayer flowed into an emotional connectedness, which lit the fire of physical intimacy.
We couldn't get enough of each other. We were truly changed. Wayne read Christian books about sexual intimacy and grew in his knowledge as a lover. He selflessly brought me so much pleasure that sex became my favorite pastime. Through subsequent pregnancies and recovery, we kept making love, continuing to nurture our emotional, spiritual, and physical relationship.
Because we understand the need for all three strands of the spiritual, emotional, and sexual aspects of marriage to be strongly entwined, we've since coached and encouraged many couples through marriage ministry. We were passionate to help and compassionate about the pain. And we know that God can heal and renew relationships in exciting and beautiful ways. 
Turning Around Your Sex Life
Whatever negative, or even life-destroying, habits you or your spouse has become entangled in, there is hope for a turn-around toward a more passionate marriage. If you are dealing with sexual disfunction, imbalanced hormones, recovering from an affair or any other type of challenge, make a choice today to believe that God can heal your sex life.
Fight for Better Sex in your Marriage. Don't just give up and think "I guess this is as good as it gets." Be understanding and sensitive with the ups-and-downs of married life sex, but don't become apathetic or indifferent to this important part of your relationship. 
The beginning place of greater intimacy in our marriage starts with our relationship with God.
Don't let past sin block your relationship with God or with your spouse.
When King David turned his heart back toward God after his adulterous relationship with Bathsheba, these are the words he wrote:
Have mercy on me, O God, because of your unfailing love. 

Because of your great compassion, blot out the stain of my sins. 

Wash me clean from my guilt. Purify me from my sin. 

For I recognize my rebellion; it haunts me day and night. 

Against you, and you alone, have I sinned; I have done what is evil in your sight…. 

Psalm 51:1-4 (NLT)
The turnaround for David began with his relationship with God. In his desperation, he trusted that God was the One who could purify his heart. He trusted God to give him back his joy. He trusted God to restore his life.
Read his heartfelt prayer aloud:
Purify me from my sins, and I will be clean; wash me, and I will be whiter than snow. 

Oh, give me back my joy again; you have broken me, 

now let me rejoice. Don't keep looking at my sins. 

Remove the stain of my guilt. Create in me a clean heart, O God. Renew a loyal spirit within me. 

Do not banish me from your presence, and don't take your Holy Spirit from me. Restore to me the joy of your salvation, 

and make me willing to obey you. 

Psalm 51:7-12 (NLT)
Here's Where Better Sex in a Christian Marriage Starts 
If you want to experience a more passionate marriage with your spouse, first focus on restoring passion in your heart for God. 
God is the One who has made you. You will find the fullness of joy in Him. Restoration of passion is a daily choice to walk freely with God. Right now, make your focus be on your personal relationship with the Lover of your soul.
Intimacy Flourishes in an Environment of Love and Respect
"Intimacy flourishes in an environment of love and respect; it shrinks in a power struggle. Intimacy so values what the other spouse brings to the marriage that each partner is willing to yield. 
Intimacy—A connection that includes, but goes far deeper than, sex, intimacy knits marriages together. To strengthen your bond, it's important to recognize and honor each other's differences and be intentional about meeting your spouse's needs.
Just in Time for Valentine's Day!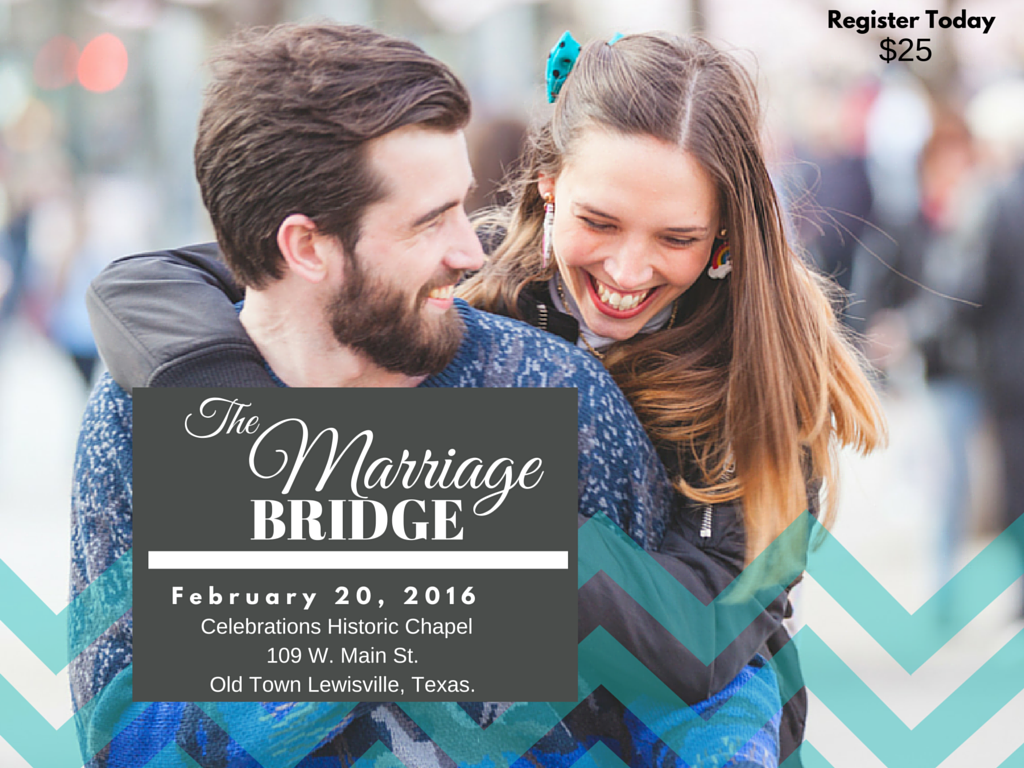 February 20 2016
Wayne & Sue Detweiler (Speakers and Hosts) With over 25 years of marriage and ministry experience, Sue & Wayne will motivate you to build a strong and intimate marriage. You will be strengthen by their biblical encouragement and then led through Marriage Exercises to help you revitalize your marriage. Your investment will help your marriage last a life time.
Included in registration cost is the book "9 Traits of a Life-Giving Marriage" and materials for each couple.
9:00 am Registration & Give Aways on Saturday
9:30 am – 5:30 pm Saturday (Sessions & Exercises)
Special Musical Guest/Worship Leader – Lance List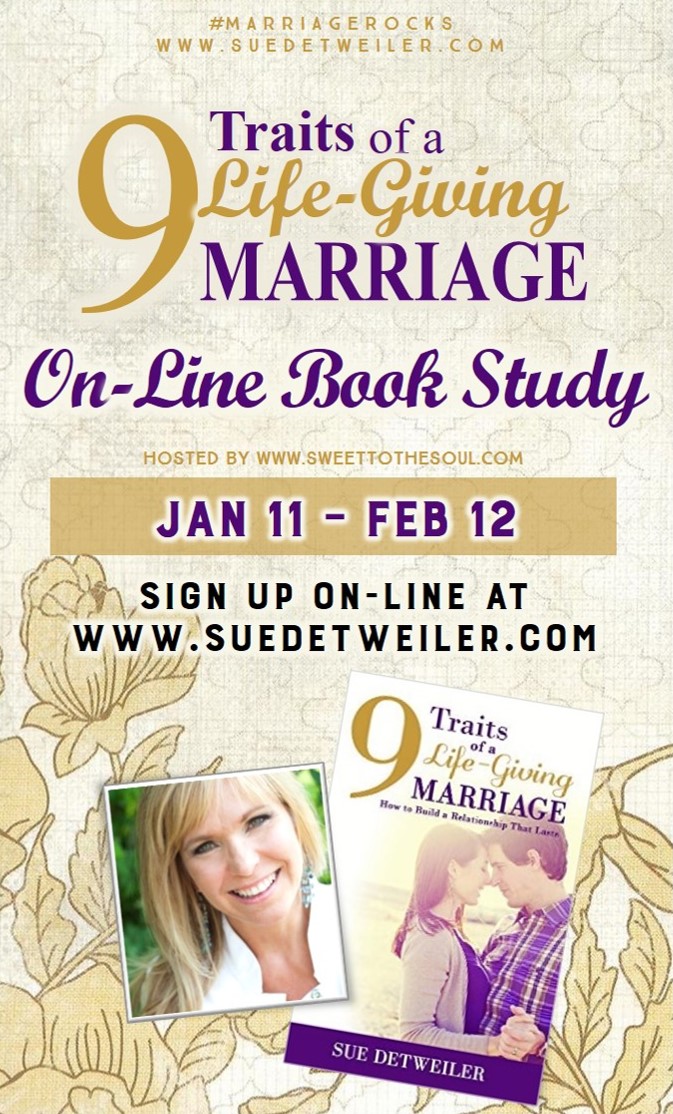 Let's discuss Chapter 5 of 9 Traits of a Life-Giving Marriage #MarriageRocks
Read Chapter 5 of 9 Traits of a Life-Giving Marriage. Reflect and journal the following questions. If you signed up, you will receive a free download today in email that you can use.
Which of the Top 5 Needs of a Man and woman (page 49) best describes your needs and the season you are in?
It's so important to speak our spouse's language of love. Identify yours and share one way you will communicate it this week.
It takes two to be intimate. What barriers are you facing to growing intimacy in your marriage?
We will see you back here next week to discuss Chapters 6 and 7.
Invite Your Friends:
There's still time to also invite your friends to join you for this Study: