Love Your Identity in Christ
If you are trying to live up to an image of what it looks like to be a perfect parent, you are setting yourself up for disappointment. The only perfect parent is our Father in heaven. Although He was a perfect parent and He had provided a paradise for Adam and Eve to live in, they still chose to disobey Him. As a human race, we chose to rebel against our perfect Father.
Your children at some point or another will resist your leadership. They may be outwardly rebellious or inwardly resistant. As your children get older, if you try to control them or put a legalistic structure in place, it may backfire on you.
Overcoming Your Temptation to Manipulate
Watch this video where I tell my own story of crossing the line and manipulating my oldest daughter when she turned 18.
Become an Influencer Rather than a Manipulator
if you are presently dealing with a rebellious child, no matter if they are a toddler or a teenager, consider this course of action:
• Humble yourself.
• Seek Godly counsel and partnership.
• Become a learner and gain new parenting skills.
• Admit your imperfections and mistakes.
• Be firm, steadfast, and consistent.
• Put your trust in the goodness of God.
Become an influencer rather than a manipulator. Your consistent walk with God will influence your child for good.
When our children learn to walk with God personally and intimately, they no longer need to be controlled from the outside. As Christians, they have the capability and responsibility to control themselves. as they become adults, they have the choice to obey God's Word in their own lives.
Become an Intercessor and Trust the Goodness of God
You will gain new confidence that God will help you as you learn to be an intercessor. The power of prayer encircles your child with the loving care of God the Father. Prayer changes each of us. Prayer softens your hardened heart and heals your wounded soul. Prayer connects you with the Life-Giver so that life flows to your child.
As you trust in the goodness of God, you will find your identity in Him. You will no longer need to manipulate or control others. You will be able to rest in His perfection, His protection, and His ability to transform even the most hardened of hearts.
Today, choose to trust the goodness of God. Your identity is not in having a perfect child or a perfect home. Your identity is in Christ alone.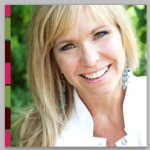 Sue Detweiler is a mother of six, author, speaker, and radio host with over 25 years of experience in leadership, ministry, and education. Her book 9 Traits of a Life-Giving Mom hit #1 on Amazon's Hot New Releases for Christian Women's Issues.