Does Marriage Bliss Exist?
Is it possible to enjoy a strong and healthy marriage –'till death do you part? Yes… with God! (No… if you walk in the flesh). Marriage can be a mixture of the highest highs and the lowest lows. My most difficult times have often centered on my own self-centeredness.
Do You Ever Try to Remake Your Spouse?
I have tried to remake my spouse in my own image (believe me it wasn't pretty).  I talk about this in my recent television interview on The Harvest House TV Show. You can watch my interview here (start at 17:17):
When we try to fix our spouse, we will find the Holy Spirit convicting us of our own need to be changed by God's power. We like to be in control, but you and I have to face the fact that we can not control or change our spouse. We can, however surrender to the Holy Spirit's leadership in our lives to be transformed.
God Speaks to our Hearts
When you feel like you are stuck in a crazy cycle with your spouse, take time to listen to God's still small voice. With pen in hand write down the words He speaks to your heart. You will be amazed at when you really listen for God's voice on your marriage, He will direct you and guide you in specific ways that you can make your marriage more life-giving.
When everything is going well in our marriage relationship, we don't feel the need to change. It is when things are not going well, that we have the incredible opportunity to go deeper in our relationship to God and to our spouse. It's at the point of conflict that you have 2 doors in front of you. You can open the door to the enemy to speak lies in your mind and heart about your husband or wife. Or you can open the door to greater intimacy in your marriage.
Take a moment right now to listen to God's voice. What are ways, that you have tried to remake your spouse rather than accept how God has made them to be? As you listen to God, He will show you a picture of how God has made your spouse to be.
None of us will experience "marriage bliss" like a fairy tale ending of "happily-ever-after." It is in the conflictual times that we have the opportunity to open the door to greater intimacy. I would love to hear your thoughts on this in the comments below…
9 Traits of a Life-Giving Marriage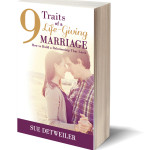 9 Traits of a Life-Giving Marriage I'm excited to share that I have completed the manuscript to 9 Traits of a Life-Giving Marriage which will be in bookstores beginning October 2. Click the button below and you can download the introduction and first chapter of the book for free.
Download Here