Building a Life-Giving Spirit-Filled Marriage
I went on a date with my husband over the weekend. We went to see the movie "Woodlawn." Set in the early 70's it tells the story of a Football Coach and the newly forced integration of his football team. Starting out with race riots, the team allowed an evangelist to speak to his team. Young men black and white were saved and everything changed. These high school students so impacted their coach that He was saved which forever changed his marriage and his family.
Weeping through this movie, I held my husbands hand believing God for more of His Spirit to be poured out in our generation. When we receive His eternal life flowing into each one of us through salvation, we are forever changed.
As we move into 2016, my hope and prayer is that we would freshly invite Jesus to be at the center of our lives. When we experience a fresh outpouring of His spirit, we are forever changed. Then, we need to get incredibly practical, honest and transparent — inviting God's love to impact our lives.
I want to personally invite you to invest in your marriage, Join Our 9 Traits of a Life-Giving Marriage Online Book Study
The study dates are
January 11 – February 12, 2016
. My friends Jana and
Kim
at
Sweet to the Soul Ministries
will host the daily study here on my blog and in a private Facebook group.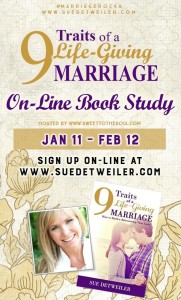 Sign up to join the study.