Build Friendship in Marriage
Many relationships begin with positive, life-giving time spent together. What were some of your favorite things to do when you were first forming a relationship with your spouse? Do you remember how those activities and the time spent together drew you closer? You likely felt affirmed, appreciated, and encouraged. You enjoyed each other's company and spent time laughing while you got to know each other better. Your affection drew you together, and your passion seemed unquenchable.
1. Accept Who Your Spouse Is…
Acceptance often get's a bad rap. We think that to accept our spouse, that we are excusing all of their bad behavior. No, accepting your spouse is appreciating who they are as a person.
Marriage relationships often start in a whirlwind of romance and pleasure. The expectation is that those feelings of love and friendship will bloom and continue to grow. But in too many marriages, the opposite occurs. Instead of spending more time together, external factors take precedence. As life's demands pull at our attention and energy, we grow apart and those happy honeymoon days turn into a distant memory. You need to focus freshly on who your spouse is and appreciate their uniqueness (rather than criticize their weakness).
Though we were wildly in love when we were dating, the rose-colored glasses came off before we got married. We fought throughout our engagement, not because we were at odds with each other, but because of the fears each of us was carrying down the aisle. Having seen my parents struggle in their relationship, I knew what I didn't want for my own marriage. So, in a naïve attempt to make our marriage perfect, I focused on both of our weaknesses and tried to fix our young relationship. I wanted to make sure we dealt with all our "stuff " before the big day. It didn't work very well.
As certain as I was that God had brought Wayne and me together, I prayed weekly (sometimes daily) that we would be able to work out our differences before we said "I do." Even from the early days of our relationship, it was clear to me that Wayne is a strong man. Certainly, he wants my best, but there are some areas—areas that I believed needed "fixing"—in which he was (and is) immovable. For that, I am thankful. Because, really, I wouldn't want to change my husband. Remember, he is who God made him to be. Not only that, but since I couldn't change him, I had to learn to trust God and realize that it isn't my role to act like the Holy Spirit in Wayne's life.
It wasn't until we got married that I embraced the fact that he was mine for life. What a relief! God had not only brought us together; He would keep us in His care. I relaxed into one of the most enjoyable times of our relationship, and life was good.
2. Have Fun Together
As newlyweds, we lived in a tiny trailer. I attended college, Wayne was in seminary, and we were poor and very happy. Wayne and I loved playing tennis at the nearby courts. (We would go from trailer to trailer knocking on the doors of our young married neigh- bors, until we found a couple willing to play doubles.) In our tennis shorts and shoes, we strengthened the bond of our friendship. In between studies, we played and enjoyed those honeymoon years. We went to the movies. We attended concerts. We hiked and went on picnics. And when bad weather cancelled our outdoor plans, we made love to the sound of the rain hitting the tin roof.
Take time to evaluate how you spend time together. Are you creating experiences of fun? If not, be intentional about spending time together making new memories.
3. Pray Together
When you pray together, you are sharing intimately about your deepest needs, wants and desires. Creating that place of safety and intimacy will be glue that holds you together as a couple. Friendships that are deep go deeper than the surface level.
Praying together as a couple can help you be on the same page. If you listen to your spouses heart in prayer, you are able to understand the deepest motives of the heart. Even if one of you feels uncomfortable praying outloud, you can create moments where you hold hands and pray in silence or read written prayer. Prayer is very intimate. Let prayer be a glue that holds your friendship together and invites the presence of the Holy Spirit into your life.
"We take our lead from Christ,

who is the source of everything we do.

He keeps us in step with each other."

Ephesians 4:15 MSG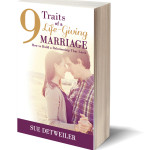 5 FREE Gifts:
1. Printables of 9 Traits
2. Printables of Prayers
3. MP3 of Healing Rain 
4. PDF copy of 9 Traits of a Life Giving Mom
5. $50 Voucher Towards the 2016 Marriage Conference in Dallas, TX
Friendship is one of the things that I talk about in this interview I did at LeSea Broadcasting. You can watch this interview that I did about 9 Traits of a Life-Giving Marriage  on The Harvest Show.
Go to 17:17 for the beginning of our Interview.