The Power of Acceptance in Marriage
Every human being is woven together by God in a unique way. You can either magnify your spouse's weaknesses, thereby causing strife with your scrutiny, or you can accept who God made them to be.
I struggled with accepting Wayne early on in our marriage. Here is his testimony of how God changed my heart and it impacted our relationship.
Learning to Accept Your Spouse
It is often the very traits that initially drew you to your spouse that you may have to come to terms with after you are married. For instance, you may have a husband who is a strong-willed leader; he knows what he wants and when he wants it. You may have been impressed by his confident demeanor and decision-making ability when you were dating. Now, those same traits make him seem overly opinionated. Or maybe you're married to a wife who is very detailed-oriented. While you were dating, you appreciated her planning skills and innate ability to efficiently organize her home. Now, it seems like all she does is nag and nit-pick you to get all the details right.
Acceptance can be hard! Sometimes it can feel like acquiescence. You feel like you are "stuck with the other person." You reluctantly put up with them while the life drains out of your relationship. That doesn't seem very life-giving. But stay with me, because acceptance can bring about beautiful change.
Experience a Miracle Change through Acceptance
As a wife, you have the power to magnify the God-crafted personality of your husband. As a husband, you can lift up your wife's God-given characteristics. When you do, you not only change the way you perceive your spouse, but, over time, you also change his or her perception of you and of yourselves as a couple.
In response to the encounter with the Holy Spirit that my husband spoke of in the video, I began to speak words of respect to my husband. I also began to speak positively about him in public, building him up. My decision to accept the way that God created Wayne, empowered a miracle-cure in our relationship. His personality did not change. But when I looked at him with eyes of acceptance and respect, my husbands confidence level grew.
You may be thinking, "You don't know my husband and how difficult he is!" You are right; I don't know your husband. But I know that you chose him. Something about who he is fits with who you are. Otherwise, you would have chosen someone else. Or, more accurately, God would have chosen someone else for you.
When Wayne and I conduct marriage conferences, it isn't unusual for at least one man in the audience to turn to his wife and say, "See, you need to treat me with respect! If you would treat me like your Prince Charming, then everything would be fine." If you're tempted to point the finger at your spouse and demand that he or she changes first…don't. Your mandate for superficial acquiescence will not bring breakthrough, but it's a sure path to bitterness.
Enjoy the Uniqueness of Your Marriage
It's important to embrace the way God has made your spouse. It is also helpful to accept how God has made you. Understand that the way you two work and live and love together may not be the same as any other couple's relationship. There are no cookie- cutter marriages.
For far too many years in ministry, I believed that, if God had just switched our gift-mix, life would be better. If Wayne had my gifts and I had his, we would fit into the traditional Christian perspective of marriage.
Joyce and David Meyer felt pressured to change who they were early in their marriage. The church they were attending made it clear that Dave should be the one who taught the Bible study they were leading from their home. The couple tried to conform; Dave taught while Joyce kept silent. It didn't work very well. God had not designed them to be like that.
Just as Priscilla's name frequently appears before Aquilla's in Scripture because Priscilla was the primary speaker, Joyce Meyer is a natural communicator and teacher. Their gifts didn't need to be swapped. Neither did Wayne's and mine. You don't need to be or do something other than that for which God created you. God doesn't make mistakes. He uses us individually, even as He uses us together.
If you are feeling pressured to fit into some type of mold, relax and enjoy who God has made your spouse to be. Enjoy and embrace the distinct way you are made and look for all the ways you suit each other.
This blog post is adapted from the first chapter of 9 Traits of a Life-Giving Marriag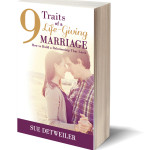 5 FREE Gifts:
1. Printables of 9 Traits
2. Printables of Prayers
3. MP3 of Healing Rain 
4. PDF copy of 9 Traits of a Life Giving Mom
5. $50 Voucher Towards the 2016 Marriage Conference in Dallas, TX