How to Fix Your Marriage
If you have been married for any length of time, you know that you can't "fix your marriage" only God can. You have probably learned by now that you can't change your spouse. You can't control what they think or what they choose to do. You have probably been hurt in some way by your spouse. Likely there are cycles and circles and patterns in both of your lives that are unhealthy to your marriage.
You may have even experienced some similar pain as described in this video with Jeff & Cheryl Scruggs:
 4 Things You can do to Move Forward
When you are wondering how to fix your marriage, you may have been functioning on the fumes of past affection. Your emotional love tank may be empty. In fact your love tank may have a hole in it.
1. Forgive
When you choose to forgive, you more than just put a patch on the hole in your love tank.  You choose to have a fresh start – a new beginning.
You will not be able to just forget the things that have been done. You won't be able to fix the cycles of sin in your spouses' life. However, you can allow the Holy Spirit to convict you of your own sin.
When you feel hurt by your spouse. You undoubtedly feel that you have a right to hold on to that grievance until you spouse changes.  Ask yourself – Does my UNFORGIVENESS help my spouse to change? Of course not.
Bitterness will blind you to your own part in the brokenness in your relationship. The sad thing is that I have been bitter about relatively small things in marriage. What a waste of time.
When I watch the testimony of Jeff & Cheryl Scruggs, I know that God is able to help us forgive our spouses of grievous sin. However, the reconciliation in their marriage required BOTH partners to repent of their sin and be reconciled. Both Cheryl and Jeff needed to repent and it was only the miracle of the Holy Spirit that brought them back together again.
2. Trust
One of the hardest things in marriage is trusting your spouse after they have sinned.  When trust has been broken it must be regained through accountable living.
For many marriages our trust is misplaced. Our primary trust must be in God.  His love is unshakeable. His care is everlasting.
When Jeff was served divorce papers, Cheryl was completely closed to any type of reconciliation. She had emotionally divorced him many years before. The adulterous affair sealed the fate of a broken marriage.
For both Jeff and Cheryl, their trust needed to be in God the reconciler. They couldn't fix the marriage in their own strength.
3. Hope
When you have been deeply wounded by a broken relationship, you can become hopeless. When hopelessness settles in, everything in life seems tasteless. Before you know it, you are in a FUNK F-lounding U-nder N-egative K-nowledge.
Whenever you lose hope, you aren't anchoring your HOPE in God. I know so many that have become divorced. It wasn't their idea. It wasn't what they wanted. You can lift up your hands and shake your fists at God or blame Him in your heart.
God's isn't your enemy. He can be your best friend. Now matter how terrible situation is, there is always HOPE. You hope is not in the success of your relationship. Your HOPE needs to be anchored in the person of Jesus Christ.
"We can rejoice, too, when we run into problems and trials,

for we know that they help us develop endurance.

And endurance develops strength of character,

and character strengthens our confident hope of salvation.

And this hope will not lead to disappointment.

For we know how dearly God loves us,

because he has given us the Holy Spirit to fill our hearts with his love."
4. Love
Our everlasting source of love is God. His resources of love never fail. God is love (1 John 4:8).
If you feel like your love tank is empty, and your husband or wife has not filled it with kind words, acts of service, gifts, touch, or time together, you can still have a constant flow of love into your tank. Let the distance you feel with your spouse draw you closer to God.
Listen for God's words, "You are beautiful… you captivate Me… You are strong… you are handsome… You are valuable… I care about you… I will never leave you nor forsake you… I am the best friend you will ever have… Come to Me my beloved."
If you forgive, trust, hope and love you will move forward in your intimate relationship with God…
When you grow closer to God, He gives tools to grow closer to your spouse. Only He can help you repair your relationship with your spouse. But even if your marriage comes to an end, your relationship with God is eternal.  No one can steal HIS love from you.
I would love to hear your comments on this blog
If you would like to find out more information of marriage coaching that Wayne and I, you can fill out the form below and we will be in touch with you. You are in our prayers. Remember, nothing compares to God's embrace.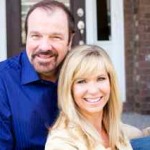 Wayne and Sue are parents of 6 children. They have over 25 years experience in marriage and ministry. Sue's book 9 Traits of a Life-Giving Mom hit #1 on Amazon's hot new releases for Christian women's issues. Together they are writing a book called 9 Traits of an Intimate Marriage.