Are you emotionally Safe in Your Marriage?
An emotionally safe marriage is one that allows you the freedom to be who you really are. You can trust that your spouse will love you no matter what. You feel unconditional acceptance. You feel safe to share the most valuable part of you—your heart. In an emotionally safe relationship, you are confident your spouse will not crush your hopes, dreams, or deepest desires. And you feel confident that what you share will remain private.
If you do not feel emotionally safe in your marriage, you may be experiencing deep pain and turmoil in your heart. You (and your spouse) may feel
Judged
Disrespected
Misunderstood or rejected
Alone
Mistrusted or mistrusting
Insecure
Uncomfortable
Emotionally shut down
Emotional walls often feel like physical barriers that cut off feelings of happiness and security. Learn to recognize the above warning signs and heal the wounds caused by an emotionally unsafe marriage.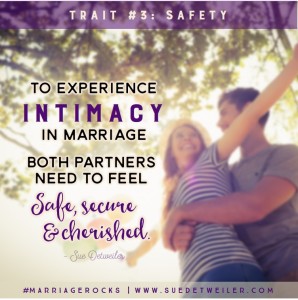 Week 2 – 9 Traits Marriage Study (Safety)
Let's discuss Chapter 3 of #MarriageRocks:
Read Chapter 3 of 9 Traits of a Life-Giving Marriage. Reflect and journal the following questions. If you signed up, you will receive a free download today in email that you can use.
Is there an emotional brick wall dividing your marriage?
Personalize these verses for your spouse:
_________ has been created in the image of God (Genesis 1:27).
_________ is fearfully and wonderfully made (Psalm 139:14).
_________ is not only your most treasured gift from God, but one of God's treasured possessions (Exodus 19:5).
What are some ways you can get reconnected with your spouse this week?
We hope you will join us tomorrow night at 9:00 p.m. CST for our LIVE Facebook group chat. And we will see you back here next week to discuss Chapter 4 on Monday and Chapter 5 on Wednesday.
Invite Your Friends:
There's still time to also invite your friends to join you for this Study: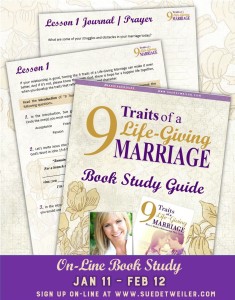 Just in Time for Valentine's Day!
Strengthen your marriage by setting aside time to be together. This intimate conference will help you build on a deeper foundation of friendship. You will be encouraged as well as empowered through time together as a couple. Sign up today!